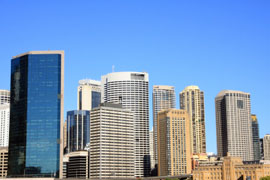 Argyle commenced operations in 1999 specifically to represent tenants' needs in the commercial and industrial real estate space. Today it is still a privately owned and operated business providing boutique tenant advocacy services to lessees throughout Australia and New Zealand. Argyle has grown by developing and maintaining close working relationships with clients and industry alike.

What sets Argyle apart from traditional real estate agents is that it completely aligns itself with the needs of the tenant, not the owner or developer. Argyle specialises in providing services on a personalised basis, with senior management involvement with all its clients. It does not carry huge establishment costs, and does not pursue business volumes beyond its capacity to ensure an ongoing offer of personalised and specialist service.

Argyle's reputation has been built by delivering solutions to its clients in a professional, independent and cost effective manner. We value the relationship we have with our clients, many of whom have placed their reliance on Argyle to look after their property strategy needs for more than a decade.

Argyle will continue to look after the interests of its clients, to allow them to concentrate on their business, safe in the knowledge that their property matters are dealt with by knowledgeable, professional and capable specialists who deliver results at all levels.